Author Archive
Caitlin Fairchild
Web Producer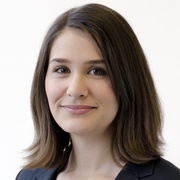 Caitlin Fairchild joined Government Executive in summer 2011 as an editorial fellow, after graduating from the College of William & Mary, where she spent four years writing for the student newspaper, The Flat Hat. In March 2012, she was hired full time as a web producer. She has completed internships at Washingtonian Magazine and at the public affairs office of Nellis Air Force Base in Las Vegas.
Data
Machine learning is helping to unlock the secrets of outer space.
Emerging Tech
Here's another option when it comes to smartphone biometrics.
Cybersecurity
You don't have to be a cyber genius to stop hackers in their tracks. You just need a piece of tape.
Emerging Tech
The extremely annoying practice might be gone for good.
Data
Because even 'unlimited' data plans have limits.
Emerging Tech
The social media company has changed its system for spotting users with potentially suicidal thoughts.
Cybersecurity
Don't let cyber thieves or unsecured devices ruin your holiday.
IT Modernization
Here's food for thought while you're chowing down on turkey this year.
Emerging Tech
Mozilla hopes the new browser will draw people away from Google Chrome.