A Federal Push for Smart Cities Cybersecurity and Privacy Standards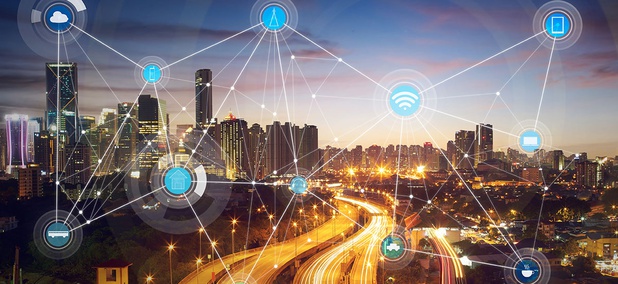 jamesteohart/Shutterstock.com
WASHINGTON — Cybersecurity and privacy will be at the forefront in the year ahead of an ongoing federal "smart cities" program.
The Global City Teams Challenge was launched about three years ago and is spearheaded by the National Institute of Standards and Technology. Central to the initiative is establishing proven smart cities practices and technology that can be replicated in cities around the world.
During the upcoming year, the Department of Homeland Security will co-sponsor the challenge as it zeros in on privacy and cybersecurity issues.
Smart cities technology is a category that might include innovations like self-driving shuttle vehicles, stop lights that use machine learning to time signals so traffic flows are improved, and sensors that detect road conditions, air pollution, or municipal water pipe leaks.
"There are a very small number of cybersecurity experts involved in smart communities," Sokwoo Rhee, associate director of the National Institute of Standards and Technology's Cyber-Physical Systems Program, said during an interview with Route Fifty on Monday.
"What is really scary," he added, "is there are not a whole lot of best practices for local governments."
Douglas Maughan, director of the cybersecurity division within the Department of Homeland Security's Science and Technology Directorate, emphasized last week in a statement about the agency's involvement in the Global City Teams Challenge that the division "has excellent connections to the cybersecurity industry and to cybersecurity researchers."
Rhee said the Global City Teams Challenge would be working toward a set of best practices, or a framework, for privacy and cybersecurity that cities can share.
The Global City Teams Challenge Expo, an annual event, is underway in the nation's capital this week. On Monday morning, mayors representing cities involved in the initiative spoke during a panel discussion about some of the projects they were working on.
Schenectady, New York Mayor Gary McCarthy was one of the city executives who took part in the panel.
He said the city of about 64,900 people, located about 20 miles northwest of Albany, in upstate New York, would announce a partnership with the utility National Grid next month to replace street light fixtures citywide with LED units and, at the same time, install technology to incorporate camera-like optical sensors and wireless internet equipment.
McCarthy noted that the optical sensors would be able to monitor a range of conditions on city streets, potentially helping to monitor and improve traffic flows and guide street maintenance.
But the technology, imaging sensors on street lamps, and what is done with the data the sensors collect, could raise concerns among privacy advocates, Rhee acknowledged.
"What I think is really missing right now, and I think it's time to address, is the security and privacy issues," he said. "It's amazing how much work needs to be done."